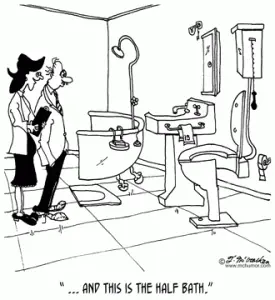 We are fortunate to live in an area where the marketplace demands high professional standards.   That said, having good intentions and wanting to shed the best possible light on the house with the intention of creating a "sizzling market appeal", what you see is not always what you get.  At the end of the day, the interpretation or value proposition is in the eyes of the beholder.   Time, fashion, taste, condition, are all very subjective things.
It's always good to look at the photos, but don't stop there.  Read the  description.  It may read "unobstructed ocean views", and the photo confirms it, right!  Not always.  Take a moment to read and you may learn the "unobstructed views" are actually from the 2nd level master bedroom. So if you are looking for a view from the back yard or from the first floor living area, you are in for a disappointment.
Views are one thing, but there is more.
Descriptions such as vintage can mean "old and dated" or classic in style.   Updated  often refers to "restoring" or "repairing" an existing structure, replacing the old with the new. Remodel means "to change the structure or form of something."
At the end of the day, be open minded.   Don't always look to push the "No button".  Every house has potential and requires a global perspective vs focusing on the blemishes.  Sometimes what you see initially as a blemish, is something you can have fun with and gives the house a special personality.